Jurassic World: Dominion Dominates Fandom Wikis - The Loop
Play Sound
There are many creatures in Skyrim that Venturian created.
Derpalopes are the Deer that Venturian Created.
Nopelopes are a hybrid of Nopes and Derpalope.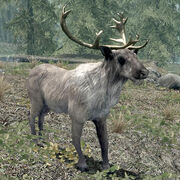 Water Rabbits are Tribal Rabbits that can swim in water, can live in freezing cold temperatures, and are more technological advanced than most rabbits.
There are multiple types of horse in Venturian's world there are three types of undead horses and there is one race of normal horses.
Torchbugs are all over Skyrim, and are a common creature.
Nopes are the Insects and Arachnids that Venturian created, their name originated from Jordan saying "Nope, Nope, Nope, Nope," to spiders.
Bucketheads are the Draugr that Venturian created, their names originated from the helmets they wore.
The Legendary Earth Birds, are a rare, endangered race of birds that have claws that can dig underground.
Vahl Sabre Cats are the renamed version of Vale Sabre Cats.
The Pizza Roll Patrol are a tribal type of creatures who are made of Pizza Rolls.
Known Creatures
[
]